Out There Activities at a Glance
All activities will depend upon the level of Covid-19 infection and Department of Health regulations

Summer & Fall Activities, continuing "until the snow flies" (Limit of 10 participants):
Cycling
Winnipeg Frontrunners (Running)
Done for the season:
Tennis
Suspended for the moment due to COVID-19 restrictions
Billiards
Hiking
Winter Activities starting up soon:
Boxing (online)
Curling
Gaymers (online)
Hockey
Rainbow Harmony Project
The following activities will not be active this winter, due to necessary restrictions to protect ourselves against the COVID-19 virus:
Badminton
Ballroom Dancing
Charades
Volleyball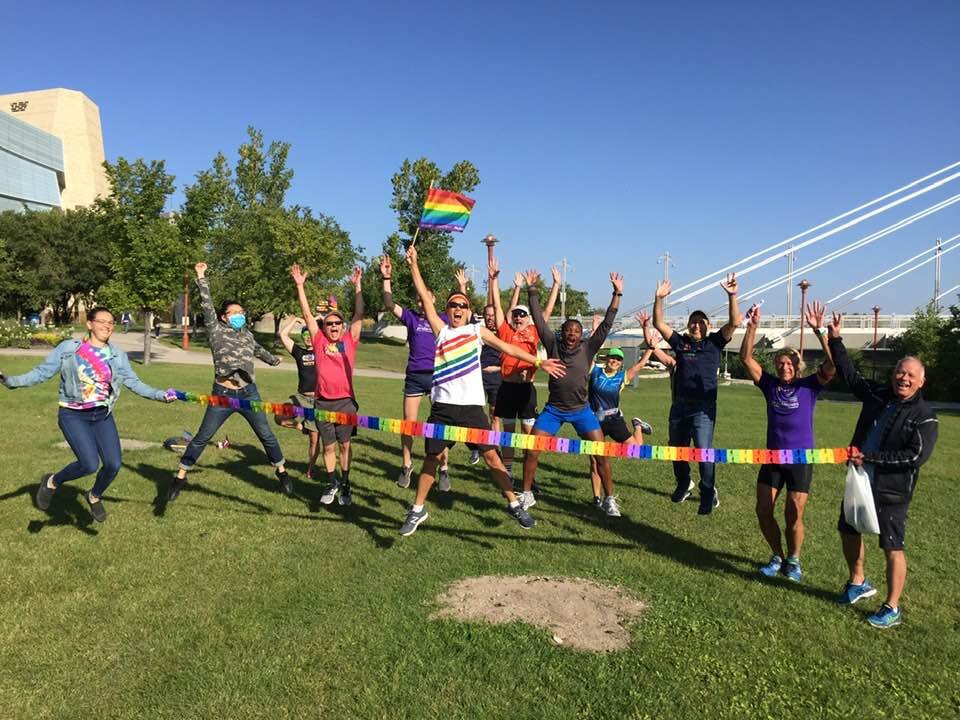 News from Our Out There Groups
New to Out There: Boxing
Earlier this summer, Boxing had one outdoor session. There was a great response, and there is currently a waitlist. Jesse, the Out There Boxing coordinator, is still unsure if an indoor space can be located for the coming season. In place of in-person sessions, Jesse may organize a virtual class, to practice technical skills.
New: Downhill Skiing
Anyone interested in forming an Out There Sports & Recreation Downhill Ski group is asked to contact Don. You may email him at outhererun@yahoo.ca
Coordinators Needed

Bowling and Yoga are in need of new volunteer coordinators. If you would be interested to help re-activating one of these groups, contact the Out There steering committee at outtherewinnipeg.ca
The Out There community is deeply appreciative of the contributions of Andrea, who maintained Out There Bowling for many years, and of Collin, who introduced Yoga to our roster of Out There activities.
Billiards

Billiards meets at Flea Whiskeys (601 Erin St, at Portage). The staff goes out of their way to make the group feel relaxed and at home. It's a fun environment. Derek (who has been attending the group for the past 2 years) and Kerrie will be running the group this year. Depending on Covid-19 restrictions, the group would meet on the first Monday of each month, from 7 to 9 pm. The cost would be $5 per person. At this time there is a semi-private table that would be reserved for the Out There group; it can accommodate 8 players. All social distancing requirements would be adhered to. Keep your eye on your email for a start-up date. (The earliest possible date would be November 2.)
Curling

Here is an update on Curling in the context of the "Level Orange" pandemic directives that take effect as of Sept 28. The Keystone Rainbow Curling League has received the following information from the Province, through Sport Manitoba and CurlManitoba: "The provisions for sport and bar remain the same. Return to Play Protocols already shared are still in effect and curling will begin as planned by each league."

The Keystone Rainbow Curling League plays at the Granite Curling Club at 1 Granite Way, Winnipeg. The season will start on October 4, with 18 teams.
Registration for the 2020-2021 season is now closed. The Granite Curling Club will be reimbursing fees if the season is cut short due to pandemic restrictions. Games will be conducted according to new protocols developed to keep Curlers safe during this time of pandemic.
For more information, go to the Keystone Rainbow Curling League website at https://www.keystonecurling.com/
Out Gear Cycling

Cycling started on July 1. An average of 8 to 10 riders meet every Wednesday at 6 pm at the Western end of the Esplanade Riel Footbridge for a 2 hour urban ride (until about 8 pm). The rides are well planned and Allis (the leader) ensures the rides are inclusive for all skill levels. The group has explored a variety of neighbourhoods and bike trails (north, south, east and west).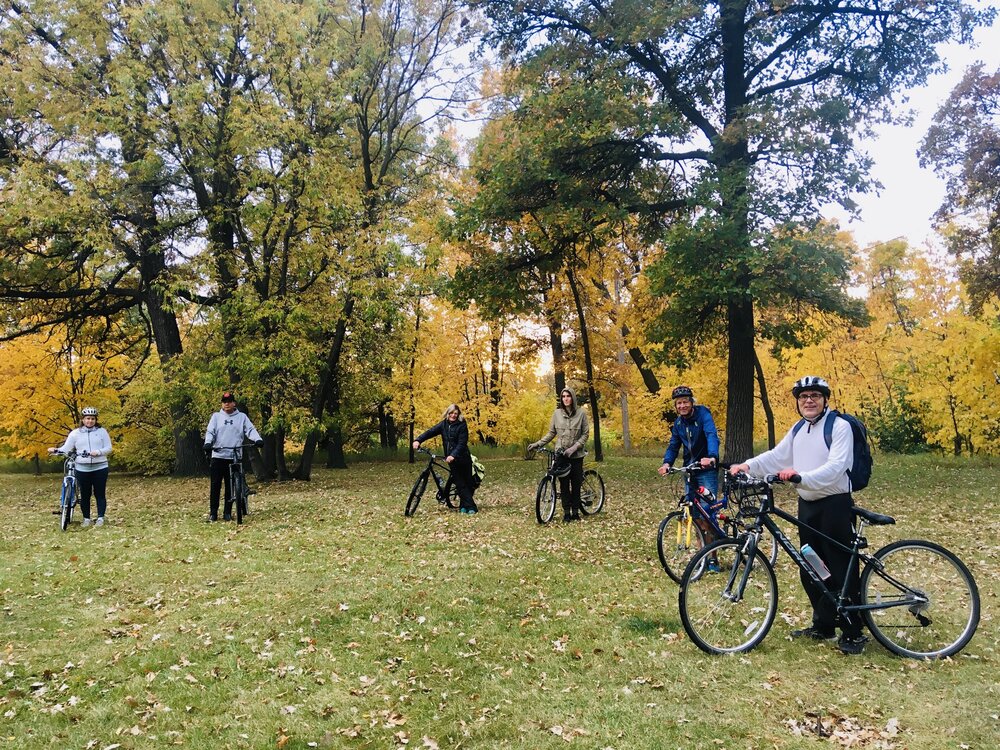 Allis is expecting that rides will continue until the end of October or until the first snow, whichever comes first.
Winnipeg Frontrunners

On September 12, Winnipeg's LGBT2SQ+ running group held an informal outdoor party at the Forks, following their weekly Saturday morning run. The party was in honour of Wally Mah, who has stepped down as coordinator. Wally began the current Frontrunners group 9 years ago and has faithfully and joyfully maintained it ever since. Wally also initiated the very successful annual Pride Run in 2016. At the little, socially-distanced, outdoor party, the group presented Wally with a huge card with photos of all the running regulars.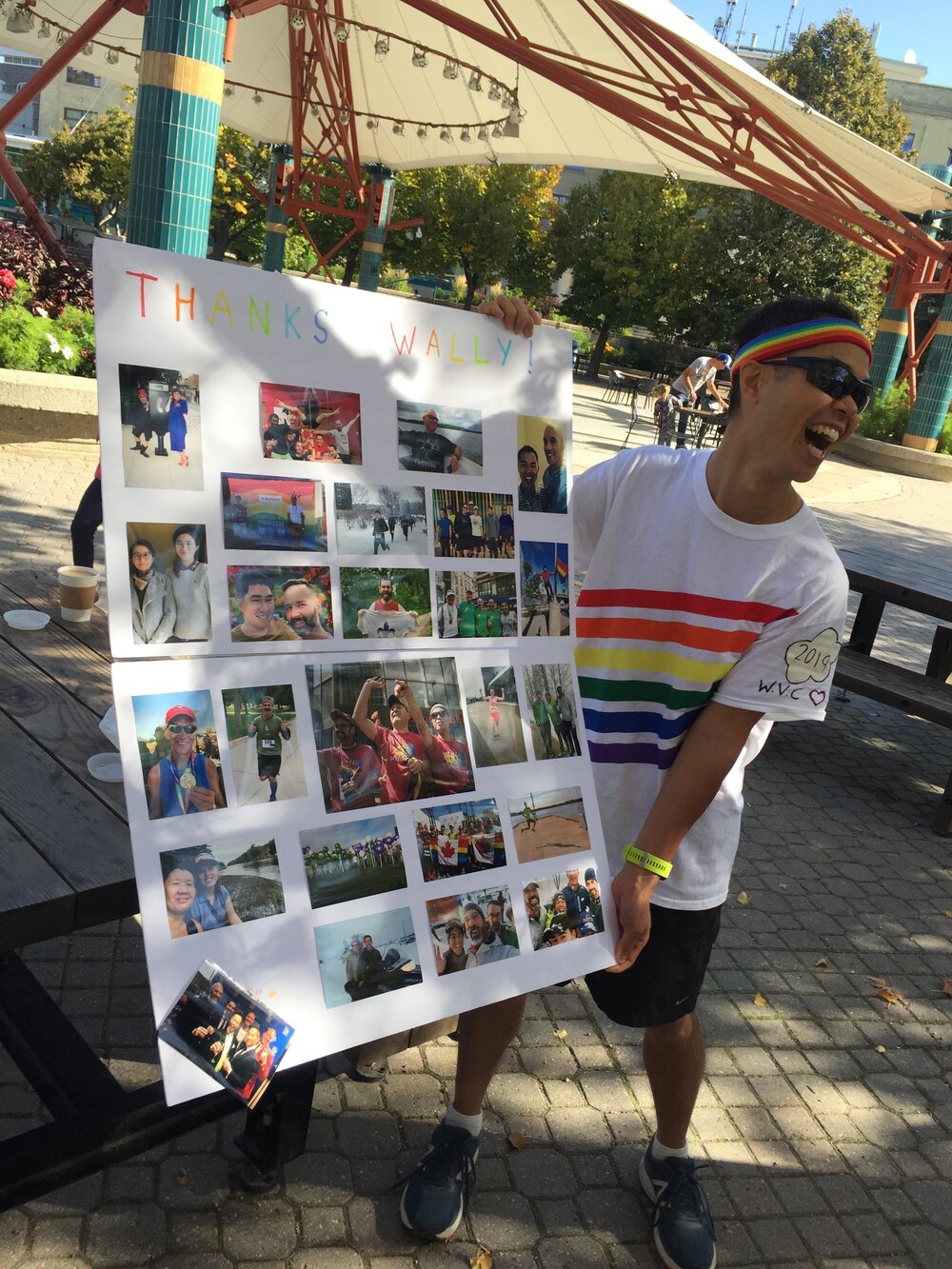 The new Frontrunners coordinator is Don Webb, who has been running with Winnipeg Frontrunners for the last 6 years.
A few from Winnipeg frontrunners have attended Whistler Pride ski week. Anyone interested in joining them in forming an Out There Downhill Ski group is asked to contact Don at outhererun@yahoo.ca
Gaymers

The Gaymers group meets via Zoom at 8 pm on the second and fourth Monday of each month. There is no cost to join in. The next game night is September 28.
They play games from Jackbox, including Quiplash, Tee K.O. and You Don't Know Jack.
There are a maximum of 8 players at any one time. The first 8 people who respond for each session can play. That limit will be expanded once the threat posed by the COVID-19 virus subsides and Gaymers can meet in person again.
When Chris Voth started Gaymers last year, right away Derek knew this was the group for him. This year Derek has taken over as coordinator of Gaymers.
Derek has loved games and puzzles his entire life. He makes puzzles for Reader's Digest magazine as well as personalized crossword puzzles for individual people.
Hiking

There was one major out-of-town hike during the summer (Spirit Sands, in Spruce Woods Park) and one urban hike this fall (Bunn's Creek Trail, in North Kildonan). Further events this fall will depend on the state of the Covid-19 pandemic.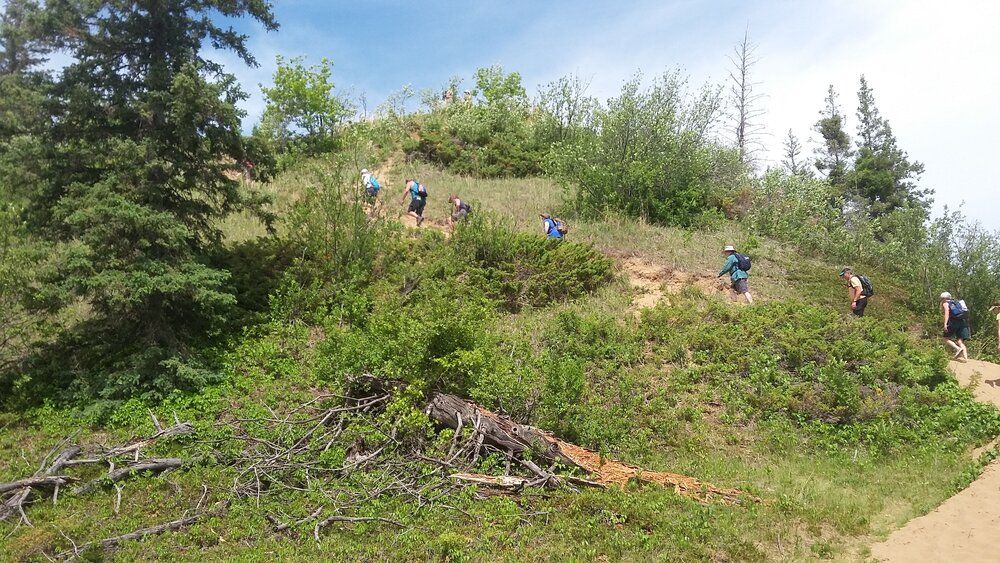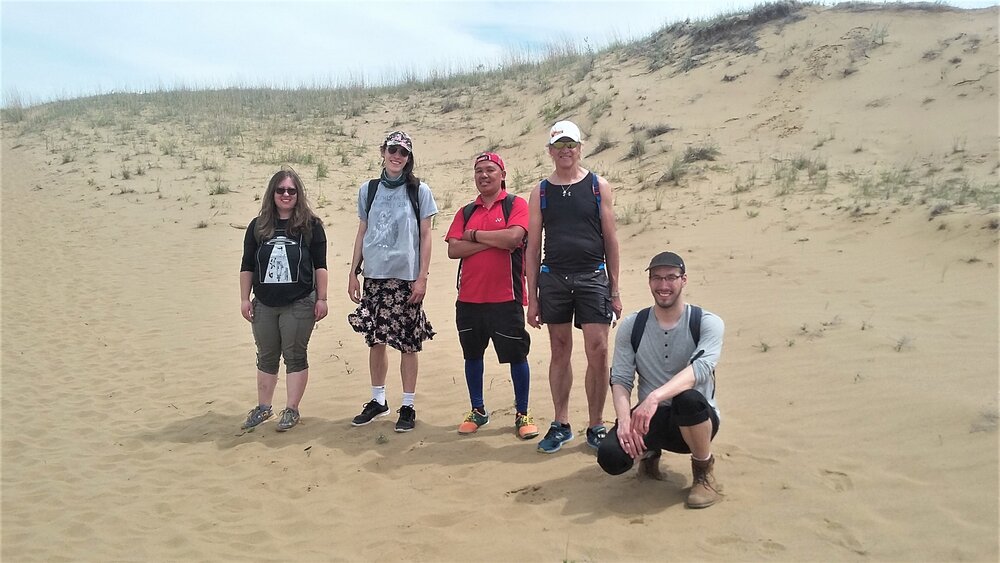 Hockey

Hockey is played outside all winter. The start date depends on the weather and when the rink is ready (November or December?)
Hockey will happen Saturday mornings from 10 to 11 am at the Norwood Community Centre (87 Walmer Street) in St Boniface. To get updates, sign up for "Hockey" on the Out There Winnipeg homepage.
Badminton and Volleyball

Both of these activities are on hold since the schools in which they play are closed to community activities since the beginning of the Covid-19 pandemic. Both Badminton and Volleyball plan to re-open once the danger posed by the pandemic subsides and schools once again open their gyms for community use – most likely not before the fall of 2021.

News from the Out There Steering Committee

The new Out There Winnipeg Steering Committee met earlier this month, on September 20. Chris Voth has retired after 3 years as Out There president, as he has taken on new employment in the Netherlands. Allan Gray has taken over as acting president, and Thomas Novak continues on as secretary. We welcome Derek (from Billiards and Gaymers) and Rob (Hockey) as members at large. Additional members-at-large have been nominated and may join the steering committee later in the year. We are very grateful to Sam, who has taken over coordination of the website, Jesse, who is looking after our social media needs, Rhonda, who has been working on our newsletter and Ten, who is our link with the University of Manitoba LGBT2SQ+ community. We also welcome Richard, who has accepted to serve as accountant and treasurer for Out There.

Chris Voth, Outgoing President

The Out There community is deeply grateful for the huge contribution that Chris Voth has made to our organization over the last 3 years. He came to Out There at a time when the Steering Committee was desperately in need of a boost. He not only brought new life to our Out There leadership but also new enthusiasm to the entire Out There community.
Chris is a professional Volleyball player and coach and is a former member of the Canadian National Volleyball team – and, of course, of Golden Boy Volleyball.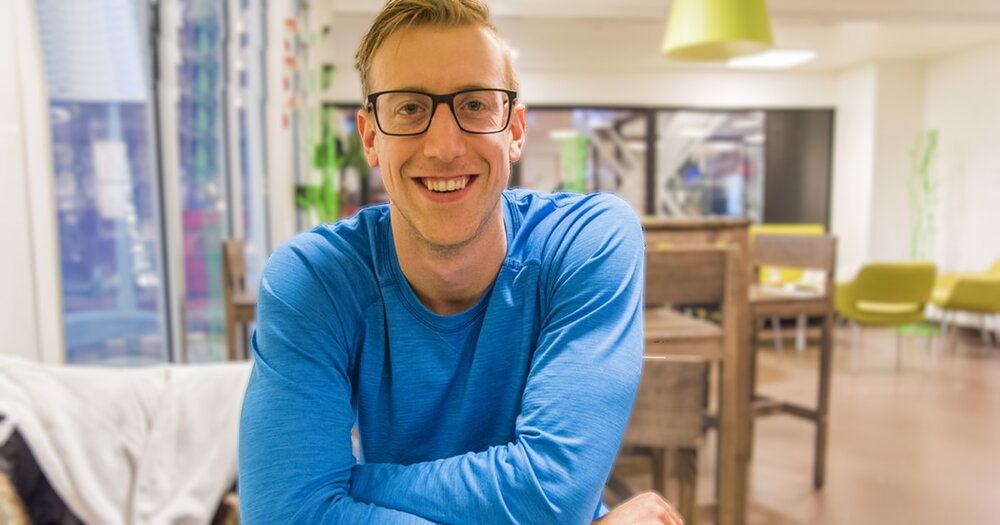 During his time in Out There leadership, Chris organized a successful beach volleyball tournament, created special social events and fundraisers, stimulated an increased Out There presence in the annual Pride parade, obtained tickets for Out There participants for Jets games, Moose games and Goldeyes evenings and helped reinforce Out There administrative structures, including the development of our first bylaws. Chris co-created the new logo that we have been using for the last 3 years. Most importantly, Chris put together a new and more versatile website – our principal means of communicating with each other.
In 2020, Chris was nominated for the Honour 150 Award for his contributions to the province of Manitoba, particularly through his work in the Out There and wider LGBT2SQ+ community. The Award, to be given to 150 devoted Manitoba volunteers, is one of the ways Manitoba is celebrating the 150th year of our province's entry into Confederation.
Thanks, Chris, for all the hard work you put into helping Out There survive and grow! Good luck with your new adventures in your new home in the Netherlands.